Software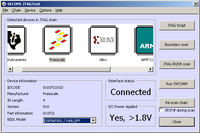 JTAGTest
JTAGTest is invaluable tool for all embedded designers, production houses and service companies. Using an IEEE 1149.1 (JTAG) boundary-scan, the device pin signals or internal signals can be monitored in real-time without interfering with the normal device operation plus you can change pin state manually if needed. JTAGTest provides automatic scan-chain configuration and detection. Automated programming or testing using SVF is also provided.
PLDTool
PLDTool is application for programming of PLD / CPLD / FPGA devices from manufacturers such as Xilinx, Altera, Lattice or Actel. As we currently don't have a website for this product, please use the contact form to obtain further information.
Hardware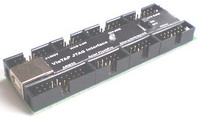 ViaTAP JTAG - USB Interface
ViaTAP is a high speed IEEE 1149.1 JTAG Interface. It is pin-compatible with many JTAG platforms such as ARM, MIPS EJTAG or PLD.
Read more about ViaTAP JTAG-USB interface
.
See also